"When travelling by Floo powder it is important that you speak clearly, take care to get out at the right grate, keep your elbows tucked in, shut your eyes, don't fidget and don't panic."
-- Pottermore advice upon collecting Floo Powder (Pm)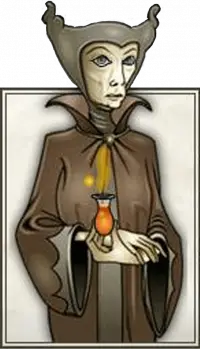 Floo Powder is a silvery powder, was invented in the 1200s by Ignatia Wildsmith (FW), and when thrown in the fire allows magical travel and magical communication between fireplaces connected to the Floo Network. The powder is thrown into the flames, which burst up emerald green. To travel, a witch or wizard steps into the flames and states her or his destination (another fireplace on the Floo Network). To communicate, the witch or wizard throws the powder into the flames and inserts only her or his head, again stating the fireplace to which a connection is desired.
Ingredients of Floo Powder are unknown. They remain a closely guarded secret. Many have tried (and failed) to replicate the formula and ended up in St. Mungo's. The price has remained constant at two Sickles a scoop. A company called Floo Pow in Diagon Alley is the only licensed seller of the product (Pm). Floo Powder has a "glittering" appearance (CS4,PA14,OP29)
Commentary
Etymology
"Floo" from "Flue" or fireplace chimney. A "flue" is technically a pipe or duct running up a chimney from a fireplace or from a boiler. It vents the hot air or gases outside.
Pensieve (Comments)
Tags: communication Diagon Alley businesses emerald green fire green silver travel