"McBride.... insisted that Cotton had put a Jelly-Fingers curse on him as they both swooped down on the Snitch"

-- match report in the Daily Prophet (DP3)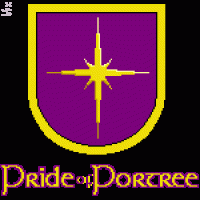 Dougal McBride played Seeker for the Pride of Portree Quidditch team (DP3).
After a scuffle in the air, he lost the Snitch - and therefore the match - when (according to McBride) Appleby Arrows' seeker Gregory Cotton cursed him. McBride then turned Cotton's head into a cabbage in retaliation. The referee found that both Seekers were flying with illegally concealed wands and an enquiry will follow (DP3)
Dougal McBride
Profession
Professional Quidditch player (Seeker)
Commentary
Notes
While the date printed on DP3 is 1 June 1999, the timeframe for these events is 1992-1993.
Pensieve (Comments)
Tags: athletes defeat fight flight furious illegal loss match violent Quidditch match