Every year, I am afraid to say, seems to harbour at least one student who thinks that he or she can get around the Wizarding Examinations Authority's rules. I can only hope that it is nobody in Gryffindor.
-- McGonagall (OP31)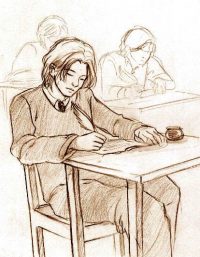 Various spells cast on quills and examination papers before exams.
References from the canon
Cast on quills before exams at Hogwarts (PS16).
McGonagall tells the Gryffindors before their O.W.L.s that "the most stringent anti-cheating charms have been applied to your examination papers. Auto-Answer Quills are banned from the examination hall, as are Remembralls, Detachable Cribbing Cuffs and Self-Correcting Ink ..." (OP31)
Commentary
Pensieve (Comments)