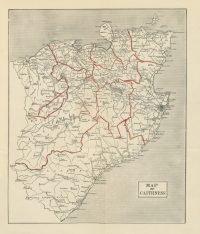 Caithness is a county in the Scottish Highlands facing the North Sea.
Minerva McGonagall's parents, the Reverend Robert McGonagall and his wife Isobel moved into a church minister's house outside Caithness, where their three children were later born and raised (Pm). Caithness was a Muggle community, so Isobel and her magical children had to be extremely careful not to break the Statute of Secrecy with their magic.
Commentary
Notes
Caith is Pictish for "Kingdom of Cat" or "Cat People." The Viking invaders called the place "Katanes" or "Headland of the Cat People," and it eventually became "Caithness." It is a rather funny pun about Minerva's ability to transfigure herself into a Cat.
Pensieve (Comments)