"To the bewilderment of commentators, the fury of Fijian supporters and the jeers of the Nigerians, Seeker Snuka chose to capture the Snitch in the 141st minute."
-- match report Nigeria v Fiji, Daily Prophet, 14 May 2014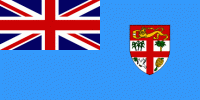 Joseph Snuka played Seeker for the Fiji National Team at the 2014 Quidditch World Cup.
Considered an "egoist" by his teammates at the Quidditch World Cup 2014 tournament, Snuka caught the Snitch in Fiji's match against Nigeria when his team was down 400-10 - with his Nigerian opposite nowhere near the Snitch (Pm).
Skills
Bit of an egoist
Other canon notes and references
Since Viktor Krum, born 1976, was the oldest player at the tournament (Pm), Snuka must have been born after 1976.
Joseph Snuka
Profession
Quidditch player (Seeker)
Commentary
Etymology
Joseph derives from Latin Ioseph, via Greek Ιωσηφ (Ioseph), and ultimately from the Hebrew name יוֹסֵף (Yosef), meaning "he will add" (Behind the Name). A famous Fijian with the same name is Joseph Browne, a civil servant and Official Secretary of President Mara.
Snuka may be a reference to the famous Fijian wrestler in the 1980s, Jimmy Snuka, who was also known as "Superfly".
Pensieve (Comments)
Tags: anger athletes catching competitions/competitors international match mystery puzzle sports teammates teams tournaments