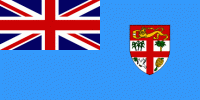 Narinder Singh was a Beater for the Fijian National Team at the 2014 Quidditch World Cup.
Along with fellow Beater Quintia Qarase in their match against the Nigeria National Team at the Quidditch World Cup 2014 tournament, Singh was said to "lack the ferocity" of the Nigerian Beaters Okoye and Ojukwu (Pm).
Other canon notes and references
Since Viktor Krum, born 1976, was the oldest player at the tournament (Pm), Singh must have been born after 1976.
Narinder Singh
Profession
Quidditch player (Beater)
Commentary
Etymology
Narinder derives from the masculine Indian name Narendra, meaning "lord of men", which comes from Sanskrit नर (nara) "man" combined with the Hindu god Indra (Sanskrit इन्दु (indu) "a drop" and र (ra) "possessing") (Behind the Name).
Singh means "lion" (सिंह) in Sanskrit and is a surname traditionally held by all male followers of the Sikh religion (Behind the Name). There are several politicians and ministers in Fiji with this surname (Wikipedia).
Pensieve (Comments)
Tags: athletes competitions/competitors hitting international match sports teammates teams tournaments weak