"The Grim, my dear, the Grim! ...The giant, spectral dog that haunts churchyards! My dear boy, it is an omen -- the worst omen -- of death!"
-- Professor Trelawney (PA6)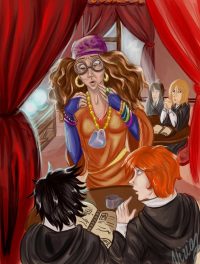 Tea leaf symbol from Unfogging the Future which represents death (PA6). The symbol depicts a black dog, which is a death omen from British folklore.
Commentary
Etymology
Old English "grimm" meaning a spectre or spirit of death, such as the "Grim Reaper"
Notes
The Barghest, a death omen shapeshifting monster from the folklore of Northern England, commonly takes the form of a large black dog (source: Wikipedia).
One or more black dogs allegedly contributed to the injury and death supposedly caused by the Pendleton witches in 1612, according to the History Channel documentary Witches: A Century of Murder and to Wikipedia. -BB
An ominous black dog connected to evil and witchcraft appears in The Witch of Edmonton, a 1621 play by Thomas Dekker, John Ford, and William Rowley. -BB
Pensieve (Comments)
Tags: animals black death death omens future