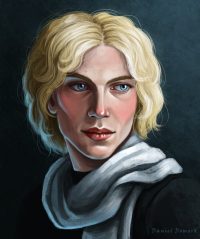 The dates for each of these events is derived from a close read of canon sources, including the scripts for Fantastic Beasts and Where To Find Them, and Fantastic Beasts: The Crimes of Grindelwald.
1881 Albus Dumbledore is born
c. 1883 Gellert Grindelwald is born
c. 1891 Ariana Dumbledore is attacked by Muggle boys, Percival Dumbledore is sent to Azkaban for attacking them in return
1 Sept 1892 Albus Dumbledore starts Hogwarts
1896 Laurena Kama is placed under the Imperius Curse and raped by Corvus Lestrange Sr.
24 Feb 1897 Newt Scamander is born
c. 1897 Leta Lestrange is born to Laurena Kama and Corvus Lestrange Sr.
1899 Grindelwald expelled from Durmstrang
June 1899 Ariana Dumbledore accidentally kills her mother, Albus Dumbledore sits his NEWTs
July 1899 Gellert Grindelwald visits his Aunt Bathilda in Godric's Hollow and meets Albus Dumbledore
August 1899 Ariana Dumbledore killed in the duel between Albus, Aberforth, and Grindelwald
c. 1900-1901 Credence Barebone is born
1901 Corvus Lestrange Sr. fathers a son, Corvus Lestrange Jr., by a new wife
1901 Passenger ship sinks in the Atlantic, Corvus Lestrange Jr. drowns, Credence Barebone is brought to New York City
19 Aug 1901 Tina Goldstein is born
c. 1905 Grindelwald steals the Elder Wand from Gregorovitch
c. 1905 Albus Dumbledore begins his teaching career at Hogwarts, teaching Defense Against the Dark Arts
1 Sept 1908 Newt Scamander and Leta Lestrange start at Hogwarts
1910 First flashback, Newt and Leta are 13 years old. Newt is in his 3rd year. Leta curses a fellow student.
1913 Second flashback, sixth year, 16-year-old Newt and Leta face a Boggart
1920 Seraphina Picquery become president of MACUSA
c. Dec 1925 Merope Gaunt fools Tom Riddle Sr into marrying her
c. March 1926 Merope Gaunt gets pregnant with a son
7 Dec 1926 Grindelwald is captured by Tina Goldstein and Newt Scamander in the NYC Subway
31 Dec 1926 Tom Marvolo Riddle is born at a Muggle orphanage
June 1927 Grindelwald escapes from MACUSA custody and heads for Paris, tracking Credence Barebone
Sept 1927 Newt decides to go to Paris to track down Tina and Credence
1935 Minerva McGonagall is born
1945 Albus Dumbledore defeats Grindelwald in battle
Commentary