"I was intending to wait until we got to Arizona, but it seems like now you are our only hope, Frank."
-- Newt Scamander (WFT)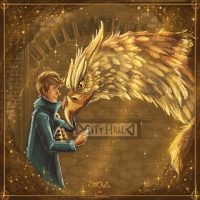 Frank was a giant Thunderbird rescued from captivity in Egypt by Newt Scamander in the 1920s and smuggled into New York inside his suitcase.
In Egypt, Frank had been kept cruelly chained by his leg, but inside Newt's case he lived in a replica of the Arizona desert, his native habitat where Newt hoped to release him someday. When he flapped his immense wings, Frank generated thunder, lightning and rain while his body flashed black and gold. At times he cracked thunder when sensing danger (WFT).
Although Newt told Tina Goldstein that his main reason for coming to New York was to buy an Appaloosa Puffskein to give as a birthday present, his real reason for coming to America was to release Frank back into the "wilds of Arizona."
After an Obscurial attacked New York City, destroying buildings and cars, Newt decided to go ahead and give Frank his freedom. In return the Thunderbird would drop Swooping Evil venom along with rain over the city, obliterating all the bad memories from the traumatized No-Majs (WFT).
Skills
Creates a heavy thunderstorm by flapping his wings
Frank
Species / Race
Thunderbird
Eyes
Eyes "flash lightning"
Distinguishing Features
Cloud and Sun pattern on wings, Black and Gold body when creating a storm
Commentary
From the Web
Pensieve (Comments)