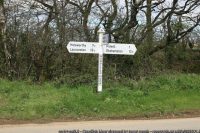 Devon is a county located in England's West Country. It was where Shuntbumps, a now-defunct broomstick sport, once rose to popularity (QA2). Nicolas and Perenelle Flamel make their home there as well (PS13).
Locations in Devon
Chudley, home of the Chudley Cannons Quidditch team
Exmoor (partially; part of it also lies in Somerset)
Ilfracombe
Ottery St. Catchpole, including:
a paper shop
a post office
Stoatshead Hill
Topsham
Commentary
Notes
The County of Devon is located in the Southwest of England (Wikipedia).
Devon is also the location of a small hamlet called Quoditch - possibly an echo for the original inspiration of the word that became Wizarding World's game of Quidditch (Wikipedia).
Pensieve (Comments)
Tags: dragon Quidditch history