"I hope Luna always commentates from now on.... Loser's Lurgy...."
-- Ron Weasley (HBP19)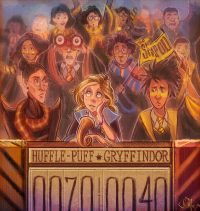 Loser's Lurgy is an illness suggested by Luna Lovegood. It supposedly causes a Chaser to be unable to maintain possession of the Quaffle (HBP19).
When commentating during the Gryffindor v Hufflepuff match, Luna speculated that Zacharias Smith of Hufflepuff suffered from this disease, as he had failed to keep the Quaffle in his hands for over a minute during the game (HBP19).
Commentary
Etymology
A lurgy is an "unspecified or indeterminate illness". The term is used humorously and originated from the "British radio series The Goon Show and probably invented by its writers, though possibly from an English dialect term" (Oxford English Dictionary).
Notes
It is a very nice alliteration.
Pensieve (Comments)