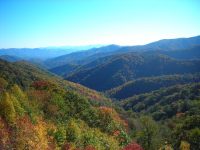 A long mountain range in eastern North America running from northern Canada down to mid-Alabama in the southern United States.
The first headquarters of MACUSA was an "enchanted edifice" in the Appalachian Mountains (Pm).
Ilvermorny School is located on Mount Greylock, part of the Appalachian chain (Pm).
Commentary
Notes
In Canada, the Appalachians begin in Newfoundland as the Annieopsquotch Mountains, and run southward as the Chic-Chocs and Notre Dame Range in Quebec. In the United States, the northern Appalachians are sometimes referred to collectively as the "Alleghenies," and include the Longfellow Mountains of Maine, the White Mountains of New Hampshire, the Green Mountains in Vermont, the Catskills and Adirondacks in New York State, and the Berkshires and Taconics in western Massachusetts. The term "Appalachia" usually refers to the southerly ranges from Pennsylvania southward, including the Blue Ridge running from Virginia to Georgia; the Black, Craggy and Balsam Mountains of North Carolina; the peaks of the Great Smoky and Unaka Mountains shared by North Carolina and Tennessee; and the Cumberland Plateau which starts in West Virginia and runs south through Kentucky coal-mining country, central Tennessee and northern Alabama.  The plant and animal life of the Appalachian range is one of the most diverse on earth and thus protected by many National Parks and Wilderness Areas. The Appalachian range is also an important flyway for migratory songbirds, hawks and eagles.  Source: Wikipedia
The Appalachian Trail is a 2,175-mile (3,500 km) hiking trail that runs all the way from Mount Katahdin in Maine to Springer Mountain in Georgia. The trail crosses Mount Greylock in Massachusetts, magical location of Ilvermorny School for Witches and Wizards (Pm).
From the Web
Pensieve (Comments)