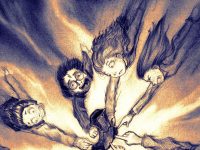 We now start Harry Potter and the Goblet of Fire, a book with several exciting events for Harry and his friends to experience. We go back to the Weasleys and attend an international event where a disaster takes place. What more can happen?
If you're ready to find out – on we go!
Podcasts:
Canon Thoughts: Goblet of Fire by Steve VanderArk
Fifty Years Ago by Steve VanderArk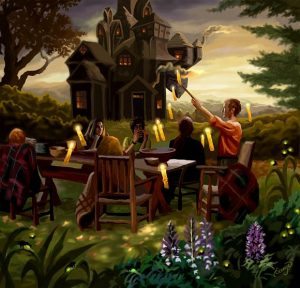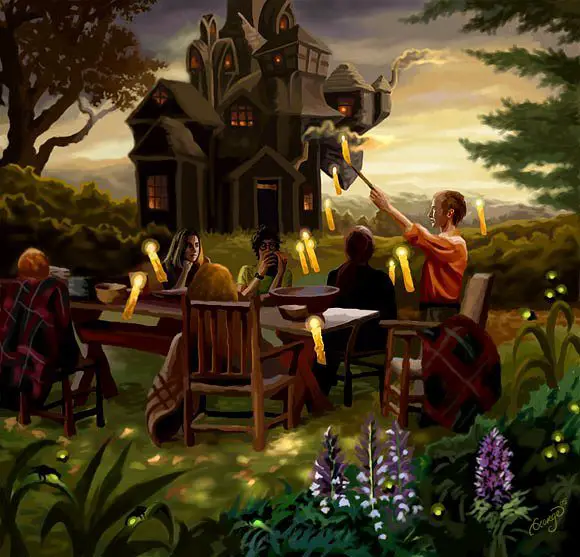 The Weasleys and Ottery St Catchpole by Steve VanderArk
GF 1: Mysteries and Surprises by Susan
GF 2: Looking Cool by Susan
GF 3: Writing by Hand by Susan
GF 4: A Lot of Long Sentences by Susan
GF 5: Looking Back and Forward by Susan
GF 6: Foreshadowing – Lovegoods and Apparition by Susan
Wizard Currency by Selena Gallagher
The Changing Quidditch World Cup Schedule by Nick Moline
Everything you've wanted to know about Socks by Morag Traynor
Reader's Guides:
These guides were originally written in March of 2002. Since that time, a few edits were made here and there but basically the text remained the same. To get ready for this Canon Celebration, our editors have been revising each one. We've added fan artwork to the Guide which illustrates the text. At the bottom in the Commentary section we've added a gallery of additional artwork. So even if you've read our guides before, please give them another look. And if you're doing a re-read of the first book, have the Guide to each chapter open as you go! I'm sure you'll find a lot of information you didn't know.
Reader's Guide to Chapter 2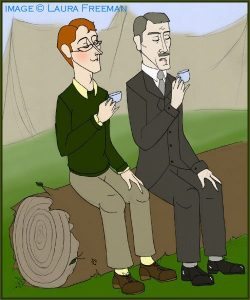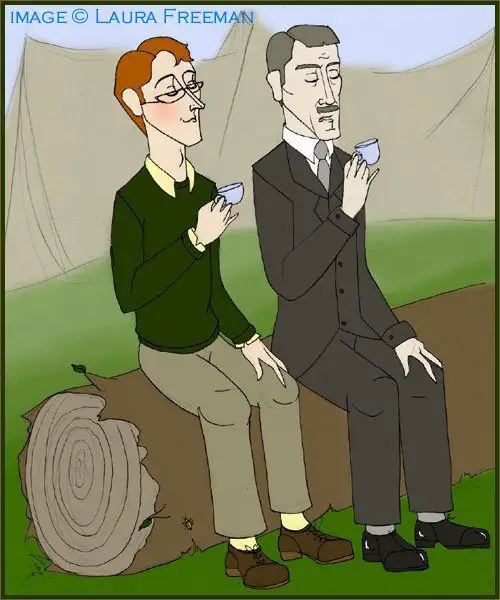 Calendars
Fitting the books into the real-life calendars isn't easy! In fact, it's impossible. But that didn't stop us:
Day by day calendar of events in the book
Text Changes of the Editions and the Years
Differences between the British and American versions
Essays
3 Cool Things We Learn About Harry in Goblet of Fire Chapter 9 by Steve VanderArk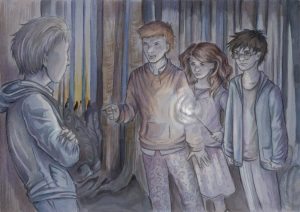 Harry's Dreams by Steve VanderArk
In Search of… The Burrow by Ravenclaw Rambler
Wizard Money by Anton Generalov aka "XAHrOBEP"
How A Man Treats His Inferiors by Abby Koop
How many Quidditch World Cups have there been anyway? by Nick Moline
Interesting Artwork
We have hundreds and hundreds of pieces of fan artwork in our collection. Some subjects get a lot of depictions — Diagon Alley is a favorite topic, for example, and, well, of course it is! But there are a few pieces which illustrate more unusual moments in the text. Here are a few examples: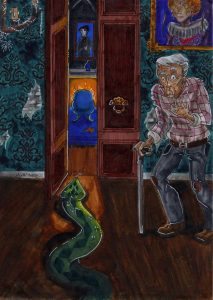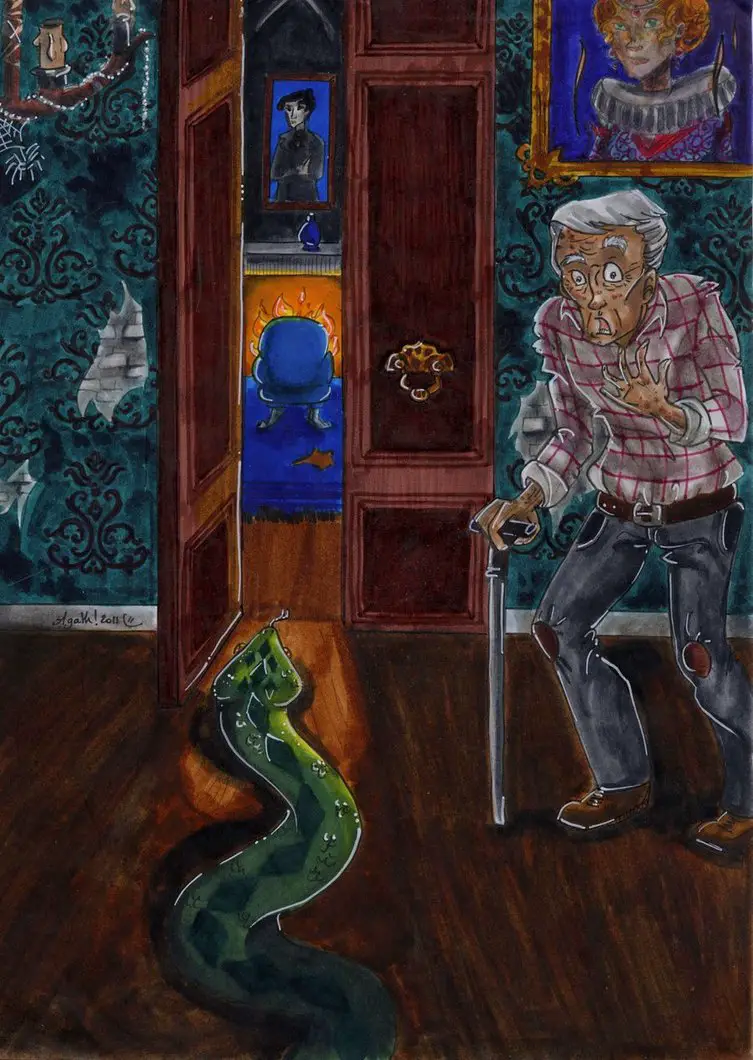 Nagini and Frank Bryce in the Riddle House (GF1)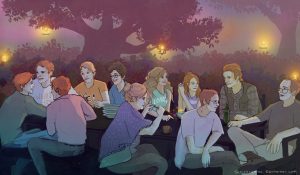 A dinner in the garden at the Burrow (GF5)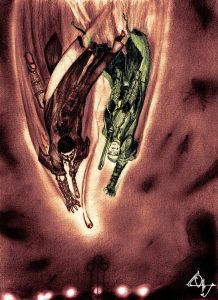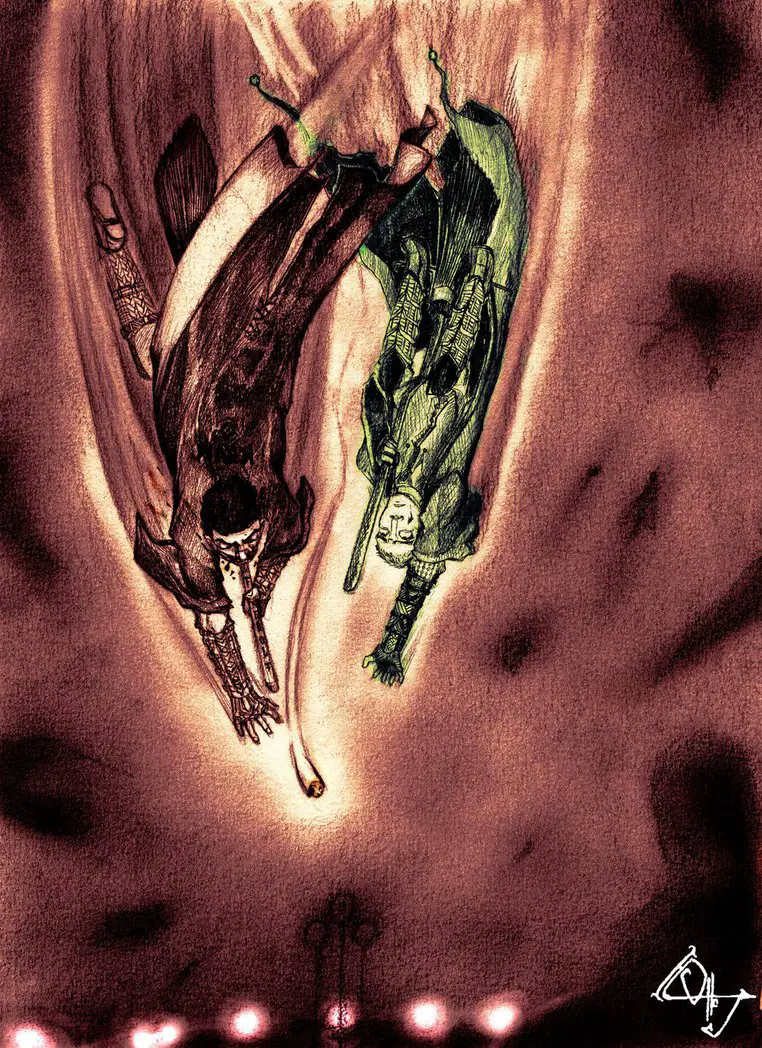 The Wronski Feint – Viktor Krum and Aidan Lynch (GF8)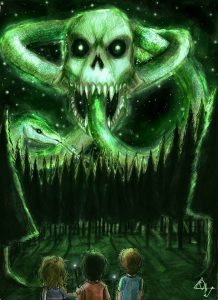 The Dark Mark (GF9)
Artwork Challenge
We have tons of images of the Burrow, Dementors and Divination. Snape and Potions lessons are another very popular topic. Our Artwork Challenge for all you fan artists out there is to depict one of the lesser known scenes and characters in the series. If we really like your work, we may feature it in the Lexicon! Here are some suggestions from these chapters:
Send your artwork to [email protected]. By submitting it, you are giving us permission to display your work on the Lexicon. We would like to include your name with your artwork so you are properly credited, so when you send your work let us know what name to use. Please also include a way to get a hold of you so that if we decide to feature your work as part of our regular collection we can contact you for more details. All artwork we display remains the property of the artist and they retain all copyright.
Special Feature: Living for the moment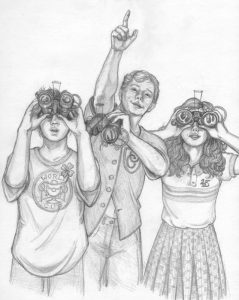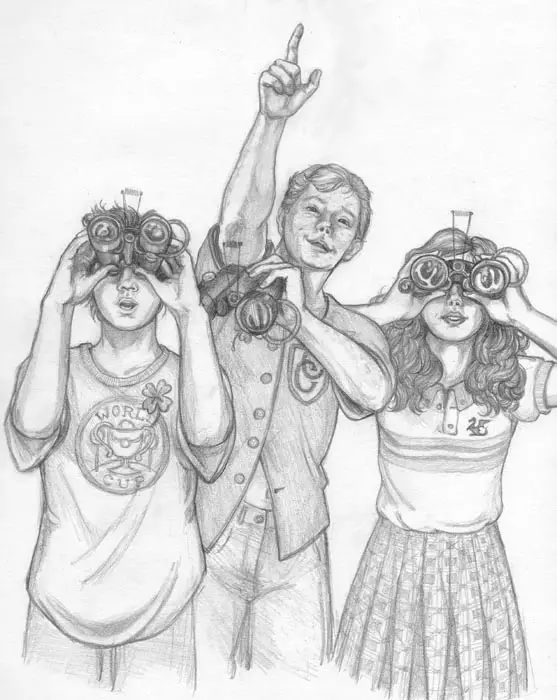 Harry buys Omnioculars for himself, Ron and Hermione before the final of the 1994 Quidditch World Cup (GF7). Omnioculars – which look somewhat like normal binoculars but have extra features such as instant replay and slow-motion – are only mentioned a few more times in the books: during the match (GF8), when Harry happens to find his pair in his pocket later (GF9), and a further three separate occasions during the Quidditch World Cup tournament in 2014 (QWC). But while they may not be very important as a magical device, there is something about how Harry interacts with them that is interesting.
He initially uses the Omnioculars to slow down the Bulgarian and Irish Quidditch team players, as the speed at which they move on the pitch is far too fast for the naked eye to take in. He is therefore somewhat behind "real time" when Ireland scores first. Hermione then scolds him:
"Harry, if you're not going to watch at normal speed, you're going to miss things!"
— Hermione Granger (GF8)
He is "furious with himself" and turns the dial back to normal speed, and doesn't slow it down again unless the match is stopped for fouls and penalty shots, or an injury. Lesson learned.
In a way, this follows on from another lesson learned – when Harry was in his first year and caught by Albus Dumbledore in front of the Mirror of Erised. He told Harry:
"It does not do to dwell on dreams and forget to live, remember that."
— Albus Dumbledore (PS12)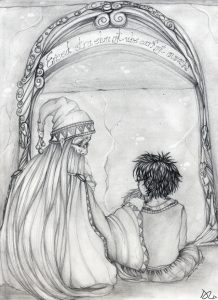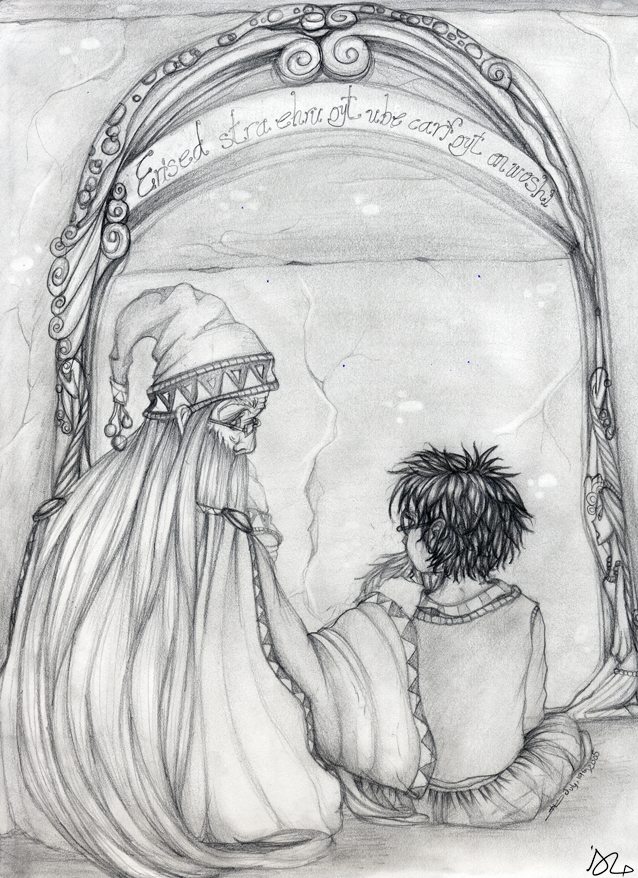 It will be important for Harry to learn to look forwards rather than backwards – particularly when it comes to the search for the Horcruxes and Deathly Hallows later on.
From the Atlas: Dartmoor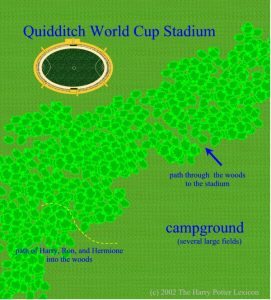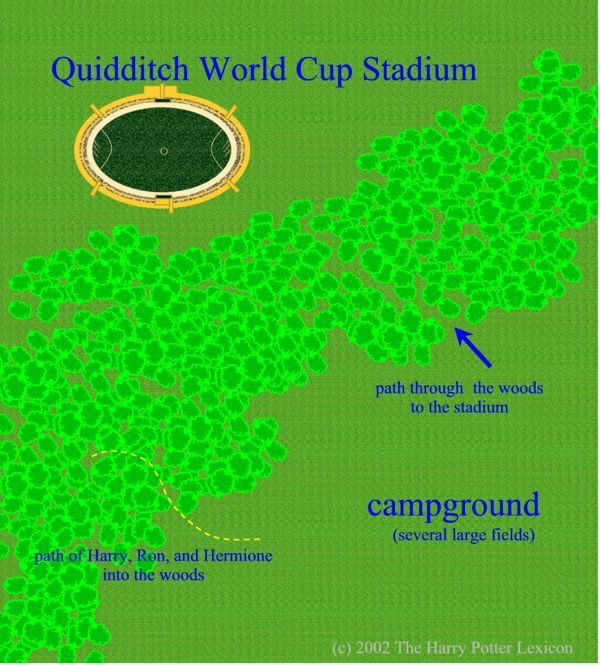 We know from the History of the Quidditch World Cup, an essay written by J K Rowling, that:
"Possibly the most infamous World Cup final of the last few centuries was the Ireland-Bulgaria match of 1994, which took place on Dartmoor…." (QWC).
Kennilworthy Whisp quotes Zacharias Mumps' early description of the game of Quidditch, in the book Quidditch Through the Ages:
"Choose areas of deserted moorland far from Muggle habitations and make sure that you cannot be seen once you take off on your brooms." (QA5)
Dartmoor fits this description. It is located in Devon (in the West Country), which is the same county where you find both The Burrow and Ottery St Catchpole. Although the moors are a tourist attraction, they aren't as busy as some other areas in England. Even in this modern day and age, there is plenty of room to hide a Quidditch tournament!
Coming up next week…
Hogwarts' students head back to school again, where a mysterious big event is going to take place. Chapters 11 to 18 contain some big surprises for them all, including a rather alarming new teacher and a fire-filled cup.
Podcast: Play in new window | Download (Duration: 5:14 — 9.6MB)
Subscribe: Google Podcasts | Stitcher | RSS
Commentary