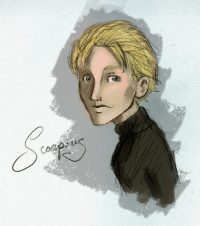 The son of Draco Malfoy and Astoria Greengrass. Scorpius greatly resembles Draco (DH/e, CC).
Scorpius Malfoy
Other Names
Scorpion King, Bread Head
School
Hogwarts - Slytherin
Commentary
Etymology
Like all of the Black family, Scorpius is named after celestial bodies (which in turn are named after mythological figures) - Scorpio after the constellation (the scorpion that battled Orion), and Hyperion after Saturn's moon (one of the Titans).
Pensieve (Comments)