"Lord Voldemort's soul, maimed as it is, cannot bear close contact with a soul like Harry's. Like a tongue on frozen steel, like flesh in flame—"
-- Albus Dumbledore in Snape's memory (DH33)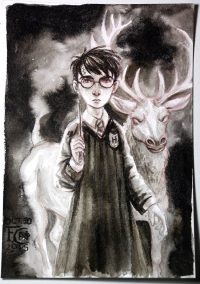 A part of a human being's spiritual identity which is eternal and leaves the body upon death to go to the afterlife.
A Ghost is merely an "imprint of a departed soul" according to Severus Snape, while an Inferius is a "reanimated corpse" that has no soul (HBP21).
A Dementor is a creature that seeks to suck out a person's living soul by giving them the "Dementor's Kiss," a horrible punishment suffered by Barty Crouch Jr. when he was caught masquerading as Mad-Eye Moody (GF35). The first two times a Dementor attacked him, Harry heard his mother screaming as she died (PA5, PA20). The third time, when both Harry and Dudley were attacked on Privet Drive, Harry was able to summon enough happy memories to keep the creature at bay and cast his Patronus to chase it away, although Dudley was in the process of being attacked. Harry told Vernon that if Dudley's soul had been sucked out by a Dementor, they would know since he would not be alive anymore (OP2) A Patronus is a "soul guardian" which can chase away a Dementor and keep the soul safe from harm (JKR).
Commentary
Notes
Dumbledore thought teaching Harry Occlumency might enable him to shut out the visions being sent by Voldemort through Harry's scar (OP24). But Occlumency only shuts the mind, not the soul. Snape did not know about the soul-connection when they were doing the lessons, and when Dumbledore mentioned it to him said "Souls? We were talking of minds" (DH33). Since the Horcrux formed a soul-connection there was no way Harry could ever have blocked Voldemort completely even if he had applied himself to Occlumency. The only things that ever worked were love and grief, as he experienced after the death of Dobby (DH24).
Pensieve (Comments)
Tags: death separation soul spirit