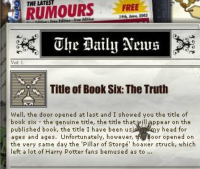 The Daily News paper
Always shows today's date (from your computer system). Says Vol.1 on the front cover and the right hand page inside.
The first set of articles is dated 15/03/04 (the Ides of March! hmm…) which preceeds the launch of the site on 15/05/04 by three months.
Catch the spider when it crawls onto The Daily News paper for an ingredient in the secret potion recipe #1. You have to be quick and if you miss you'll accidentally open the paper instead. But if you go back out and wait, it will come back again.
The pictures change randomly among 6 designs every time you close and re-enter. The one on the cover stays the same and is the same on the first article inside, until you exit and re-enter the site.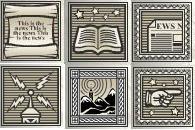 Scroll and click a headline on the left page, read the article on the right.
Page scroll <<01/01>> became operational with the article posted on May10, 2006.
---
Past headlines of articles in The Daily News paper:
May 15, 2004 – 3 original articles (dated March 15 before the site launched)
Forged JKR Signatures
Mugglenet Chatroom Uninterested in JKR's theories
Progress on Book Six
June 2, 2004 –
London Premiere of Prisoner of Azkaban
Reaction to JKRowling.com
June 29, 2004 –
Title of Book Six: The Truth
July 10, 2004 –
JKR Appearing at Edinburgh Book Festival
July 24, 2004 –
JKR Expecting Third Child
August 15, 2004 –
J K Rowling at the Edinburgh Book Festival
December 10, 2004-
December 22, 2004 –
'Harry Potter and the Half-Blood Prince' to be Published 16th July 2005
January 25, 2005 –
JKR gives Birth to Baby Girl
January 31, 2005 –
May 13, 2005 –
Harry Potter Children's Press Conference Weekend
May 26, 2005 –
As Publication Draws Nearer…
July 21, 2005 –
September 7, 2005
Harry Potter Goes Digital
E-Bay Users Once Again
September 12, 2005
January 25, 2006
Launch of the Children's High Level Group
May 10, 2006-
JKR to read in New York with John Irving and Stephen King
September 13, 2006-
September 29, 2006-
Banned Books Week
eBay – the Usual!
February 1, 2007-
Publication Date for Harry Potter and the Deathly Hallows
May 23, 2007-
The Moonlight Signing
(edited a few hours after posting)
June 14, 2007-
The Open Book Tour, October 2007
October 31, 2007-
November 1, 2007-
(behind spoiler warning) Auction of "The Tales of Beedle the Bard"
---
See a collection of
Quotes from these articles on our Floo Network partner site,
Accio Quote!.
Canonicity
Secondary Canon
Commentary